GROWING UP IN LIVERPOOL
I was born in the front bedroom of my home in Toxteth which is in the city centre of Liverpool in England. I always wanted to be writer and an archeologist. I didn't manage the latter.
As with many first novels, mine was influenced by my childhood.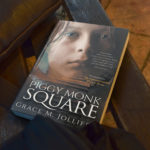 Piggy Monk Square was set in the area I grew up in and like 'Sparra' in the story, I played out in the street every chance I got.
We mostly played ball games but sometimes we played hopscotch and various other street games.
When I wasn't out playing, I was indoors reading. We were lucky enough to have the Lodge Lane library a stones throw away.
We didn't have hot water, a bathroom or washing facilities in the house. I used to bring the washing up to the laundry in Lodge Lane every Saturday.
I would have been eight or nine at the time and the laundry would be full of little girls hauling trolleys full of washing. Those were the times…
In Piggy Monk Square, Sparra and Debbie go to the laundry just like I did.
Nobody had washing facilities in the area so there would be queues. You would have to wait for a machine to finish before you could load your own washing and some other girl would always try and jump the queue and grab the machine you were next for.
I was pretty bad at sticking up for myself so I would often have a long wait.
I remember hating the laundry. The smell of a whole community's dirty washing mixed in with washing powder and some toxic stuff they used to clean the floors with would lodge in your nose for the day.
Still I could nip out and get some books out of the library while I was waiting.
In the early seventies, there was an atmosphere of mutual hostility between some of the Toxteth residents and some of the Merseyside police.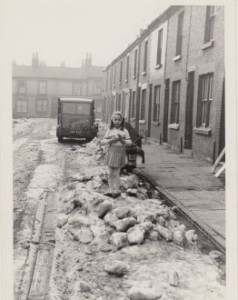 This wasn't helped by the attitudes of the police at the time. A lot of whom treated the people who lived there with contempt.
It was this I had in mind when writing Piggy Monk Square. Sparra lives in fear of the police.
The infamous 'stop and search' tactics – (stopping innocent people on the way home from the shops and searching their pockets and shopping) employed by the Police, did a lot to poison minds against them.
I am sure many will disagree but in my opinion, the riots of the early eighties were the result of police attitudes as well as poverty. Lodge Lane was one of the areas decimated.
LEAVING LIVERPOOL – COUNTY WICKLOW
In the late seventies, my family returned to my father's home place of Greystones, County Wicklow in Ireland.
This was quite a culture shock. I knew the place really well from holidaying with my Granny but moving completely from the inner city to a little village by the sea was a major upheaval for me.
The move came at a time of great trouble in the north of Ireland and there was a lot of bad feeling towards the 'Brits.'
Despite having an Irish father and huge extended Irish family I found out that I was considered a 'Brit' and also that some people held me personally responsible for centuries of oppression.
Naturally enough I found it very hard to make friends and settle down. Writing was a way of coping.
Later something happened which changed my life and I found myself on a path I hadn't chosen.
Throughout this stage of my life I wrote a lot, but mostly in diaries. I tended to write my problems down and do my worrying on paper.
I occasionally wrote the odd fictional story but had no confidence in what I wrote at all.
Life went on and I continued to write but when I look back I realize I wasn't consistent. I might write every night from 11pm to 3am for weeks and then stop for months.
Years later, I went to an evening class in creative writing and began to write much more fiction. The teacher spoke frankly of his own experience as a struggling writer.
I remember admiring his quiet determination and that inspired me
One night after class he took me aside and told me that I was very talented and to keep going and not stop and start writing.
This came at a time when I was feeling very low and I credit that teacher, and his kind words for inspiring me.
I have a feeling my life would have been very different if I hadn't met him.
---
Grace Jolliffe's latest novel The Sunshine Girl is now available.
Is the smiling stranger the answer to her problems?
Or is he the start of a nightmare?
A gritty and funny story set in 1970s Liverpool.
---
TOSave
Save
Save
Save
Save
Save
Save