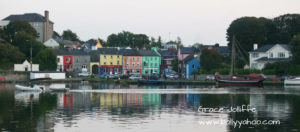 Acceptable racist abuse in Ireland – is there such a thing?
Well yes…
One day last year I went into a hardware shop in my local town of Kinvara to buy some sandpaper.
Nothing extraordinary about that.
Except that when I began speaking at the counter a man, a complete stranger to me, having heard me speak began to shout at me.
He was red-faced and very angry. He was shouting directly into my face that the:
'fucking English have gone and ruined everything. The fucking English have always ruined everything.'
He repeated this into my face over and over and over again – like a needle caught on a record.
I looked at the assistant for support – she kept her head down.
There were men working there and I hoped she'd press a button, shout, send a quick text anything but no, she did nothing.
He kept shouting.
Now… I wasn't wearing a British Bulldog hat.
I wasn't wrapped in an English flag. I wasn't shouting, chanting or doing anything provocative than buying some sandpaper.
By the way, I was recovering from leg-surgery at the time and had only recently begun to walk – with a limp. He could see that.
I felt doubly vulnerable and was terrified he was going to knock me over.
He kept shouting.
There were others in the shop and I am devastated to have to say this but not one person came to my aid.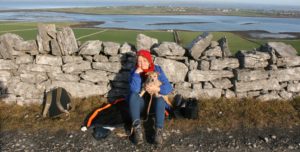 That made it much much worse.
Why did he attack me?
A middle-aged woman with a wonky leg buying a bit of sandpaper?
Simple – he didn't like the way I talked.
He identified me as English.
I identify as half English and half Irish – not that it should matter.
I have lived here most of my life but was brought up in Liverpool by an English mother and an Irish father and I still have a bit of an accent.
That gave this man the right.
Why do I say the right?
Well because I did report him to the local Gardai (the police) and no action was ever taken against him.
The shop declined to give evidence.
This is a shop with CCTV. You can see the bank of screens, clearly on show, behind the counter
The man had been at the counter the whole time I was in the shop and he was going through a pile of papers with the assistant – it was obvious to me he was known to them.
The shop declined to identify him to the gardai. They did nothing.
This is a local shop that I had been buying hen food and other bits and pieces from for years and yet they didn't care.
The gards told me 'they don't want to know.'
That was what gave him the right.
What if he'd pushed, shoved or punched me? Would they have let that happen?
I don't know you see, and that's what hurts the most.
If he felt free enough to attack me in broad daylight in a public place what would he have done if he'd met me on a dark corner?
The Gardai at the time told me they had a good idea who he was… then they did nothing.
Their lack of action means he is left with the impression that what he did is okay.
Now, it might have taken me a long time to say it but I'm saying it now – No, it's not okay.
Neither was it okay when a man at a writer's group party told me: 'You should go home back to England because we've had five hundred fucking years of you!'
It wasn't okay when a male writer at an Irish Pen function who was introduced by a friend slobbered on my hand instead of shaking it and said: 'I'd lie with anyone, even the English.'
It wasn't okay when a female writer at the same function told me how she had been 'lucky to avoid the Brits on holiday and added later (much later) that they're not all bad.'
It wasn't okay when another writer asked me if I had ever heard of the famine and implied that I was responsible for it.
By the way, what is it about some writers?
Note that I said 'some' not all. Most of my friends are writers and they're great.
I'm talking about so-called liberal writers who if someone abused a black person would be busy virtue-signalling their indignation at such racism all over Facebook while being totally fine with making derogatory comments about 'The Brits' or 'The English.'
Do they think there are some forms of acceptable racism?
But it's not just writers…
It wasn't okay when a local farmer hinted that I was to blame for Cromwell's actions in Ireland.
It wasn't okay when I saw a man, now working successfully in England, and with whom I'd been friends in college ranting on Facebook about the 'English Fuckers.'
This is a short list – there's more but I'm sure you get the picture.
And then there's Brexit.
Brexit has allowed journalists and liberal commentators to pull on their green jerseys and excel themselves in racist rhetoric towards 'The English, The British, The Brits.'
They never trouble themselves to qualify it by saying some as in not all.
No, they're quite happy with their sweeping generalisations and stereotyping despite the fact that they, of all people, should know that it's the generalisation and stereotyping that causes trouble.
So why do they do it?
Would it be because they think that pulling on the green jersey and doing a bit of 'Brit-bashing' is good for making them popular?
They apparently feel no responsibility if their stereotyping of British people leads those living here to be attacked or abused by people who've turned Brexit into the abuse excuse.
There is no excuse for abuse.
I've given up on challenging some of the anti-British rants I've seen on Facebook.
Anything I say is soon overwhelmed by people telling me I am somehow personally responsible for not just Brexit but also every bad thing the British Aristocracy and governments have ever done.
By the way, it has taken me a long time to decide to write this – over a year in fact.
Why? Because my perception was and still is, that beyond some close friends and family nobody would actually care.
In fact, my perception has been that they would have cheered him on.
After all, nobody present in the shop intervened. Not one person!
I can't tell you how much that hurt.
After I told the story to two of my 'friends' one responded by telling me a story about some 'English person' who said something racist to a friend of theirs.
The other one told me about an English woman she saw behaving badly in a pub.
What they were really saying was that I am responsible for all English people's behaviour and it's okay to target me for abuse.
Another one said 'I'm sorry that happened to you but…'
That significant but was followed by a history lesson – that's the excuse you see?
In other words that's why I deserved it.
So that's why I didn't write about it – I didn't know what to expect.
By the way, the person who was the most supportive was my friend, Martin Beanz Ward, the comedian.
He understood – why? He's white, male and Irish but…
He is also a member of another community who many people think it is acceptable to racially abuse – the Travelling Community of Ireland.
So why do I write about it now? Apart from the well-known fact that writing is free therapy?
One reason is that I'm hoping to change my perception.
I don't like the unsafe feeling I am left with so I've decided to take a risk and tell my story.
The other reason is that for a long time after the incident I avoided going to Kinvara alone.
Then I made a mental decision to get over it and I started going again.
I thought I saw him one day when I was alone and almost threw up.
It wasn't him but it might have been.
What would he have done?
Probably the same thing again, after all now he now knows that nobody will intervene.
Is that true? I have to know.
So here goes – publish and be damned?
---
 My latest Liverpool novel is now out.