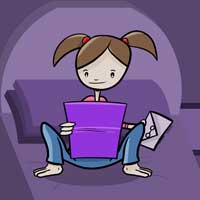 Like a lot of mums, I used to make up children's stories to entertain my daughter and her friends.
They loved those stories but of course, that was because they were all in them.
WRITING CHILDREN'S STORIES
Writing children's stories was never an ambition of mine – but it changed one day when I heard someone reading a children's story on the radio.
To be honest I thought it was awful.
It sounded like an adult story that had been adapted for children by adding a heavy load of  'meaning and learning.' This made the story dull and lifeless.
I found myself thinking that surely I could do better so I gave it a go and found I loved writing it.
That first story was published in an Irish magazine called Ireland's Own.
There's nothing like a little bit of success to inspire and soon I was writing more children's stories and thoroughly enjoying the process.
After writing within the tight constraints of television and film the freedom suited me and I loved letting my imagination fly.
WRITING CHILDREN'S STORIES FOR RADIO
Soon I was writing regularly for a children's radio series on Ireland's RTE One. I aimed at writing fun, contemporary, realistic stories which explored themes relevant to today's children.
I was determined to make the children and families in my stories real and I wanted to deal with family conflict and problems in a natural way that children and their parents can recognize.
But, most of all I wanted to encourage children to read. To get children reading, stories also have to be fun and entertaining.
At the time I sold my stories to the radio station I gave them the rights to two broadcasts. When the rights reverted to me I decided to publish them as books.
At first, I published them as individual stories but recently I decided to put them together in one book as a collection.
---
WHEN THINGS GO WONKY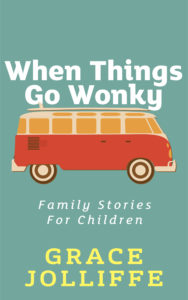 When Things Go Wonky is the collection and is comprised of eight funny stories about contemporary families navigating the ups and downs of family life.
Themes include:
• Coping with a new baby in the family
• When parents divorce
• Bullying
• Conflict in the family
• Loss of a grandparent.
• Peer-pressure
The themes are dealt with from the child's point of view and the stories are helpful to parents who wish to discuss these problems with their children.
---
CHILDREN'S STORIES FROM BALLYYAHOO
Recently I also decided to bring together another collection of my children's stories.
All these stories are set in the fictional world of Ballyyahoo.
WHERE IS BALLYYAHOO?
Ballyyahoo is a magical little town that's hidden in a secret location on Ireland's Wild Atlantic Way where I now live.
Ballyyahoo is home to a variety of eccentric characters and animals and between the Witch of Ballyyahoo, Sergeant Sid and his made-up crimes plus Maggie and her many cats there is always something going on.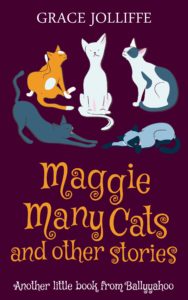 One thing these stories have in common is that they all explore and celebrate nature in some way. This book is called 
Maggie Many Cats and Other Stories
.
In writing these stories I am very influenced by my beautiful surroundings here in County Galway and Ballyyahoo is very much about life in the countryside.
I love getting out and about exploring the local forests, trails and of course the beautiful beaches.
One of my aims with these stories is to encourage children to get outside, to visit the beaches, parks and woodlands wherever they are and explore.
So, for example, a young reader who is reading about The Witchy Woods can click on the link in the story, see photographs and read more about the
woodlands and trails of Ballyyahoo.
On the site, there is lots of information, free children's stories as well as photographs of the characters, animals and nature of Ballyyahoo.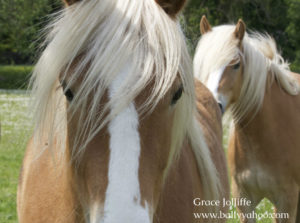 ---
Join my reader's group and be the first to receive updates and news of forthcoming books and offers.
JOIN BELOW
---