Children's Football Stories – Football Mad
Football Mad Shane desperately wants to win a place on the school football team.
There's only one thing stopping him and that's his lousy header – he can kick the ball, or throw the ball, but he just can't manage to head the ball.
The rest of the lads all laugh at Shane when Coach says that one-legged nuns and cross-eyed cats would make better footballers than him.
Shane needs to practice his football skills at home – away from his laughing mates. He asks his parents for help but his busy dad only wants to read books and his busy mum only wants to do Yoga so Shane is forced to take drastic action – strike action.
---
FOOTBALL MAD IS AVAILABLE IN PAPERBACK NOW
---
AUTHOR'S NOTE
Football Mad was initially broadcast as an audio story on RTE Radio One in Ireland.
I had so many requests for a reading version that I decided to adapt it for reading. It was the first of my children's stories to reach a best seller status in its category on Amazon.
FOOTBALL STORIES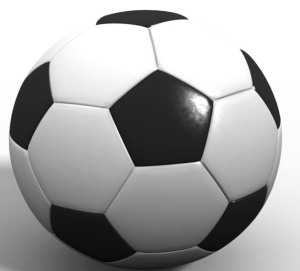 Football Mad isn't just about football. It's one of those stories that adults enjoy as much as kids.
Busy parents can empathize with Shane's Mum and Dad who are trying to juggle work and family life. In a lighthearted way, this story reassures us that there's no such thing as perfect parents, or perfect children – we are all just human.
PRAISE FOR FOOTBALL MAD
'Wickedly funny and highly entertaining – Football Mad follows the efforts of Shane Cooney as he tries to persuade his nerdy dad that scoring goals is far more important than surfing the net. Will Shane succeed in making the first team? Will his dad ever lift his eyes from the computer? Grace Jolliffe's sense of mischief comes to the fore in this enjoyable battle of wills. Written to tickle your funny bone.'
– June Considine
---
FOOTBALL MAD IS AVAILABLE IN PAPERBACK NOW