Ballyyahoo is a magic town hidden away in a secret place on Ireland's Wild Atlantic Way.

Nobody knows where Ballyyahoo is – except the people who live there.
But, they must keep the location secret.
---
FUNNY STORIES FOR KIDS – FROM BALLYYAHOO
This collection includes a selection of stories from Ballyyahoo, information about the characters of Ballyyahoo plus access to a free website where you find loads of free extra stories and photographs of the nature and wildlife of Ballyyahoo.
This edition also includes useful notes on the meaning of commonly used Irish words and a free chapter of another Ballyyahoo book: The Witch of Ballyyahoo.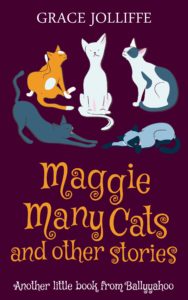 ---
THE STORIES
MAGGIE MANY CATS

Maggie Many Cats knows how to keep a secret, but when a strange black cat comes flying in the window, she thinks she's going mad.
Cat-loving Maggie is desperate to know the truth.
Is she imagining this beautiful talking cat or could it be magic?
She's terrified of being put in a home – who would look after her many cats?
Is there a secret hidden in the depths of Ballyyahoo?
BONKERS IN BALLYYAHOO
Meanwhile, Gerry Mac is bored, all he ever does is swing on a gate until he's sent to work in Paddy Plant's slave camp.
All day long he must dig, dig and dig. How can he ever escape?
His cousin, Kevin, is always in trouble – he wants adventure, and he wants fun, but he can't resist a prank.
But one of his pranks backfires and the long-suffering people of Ballyyahoo have had enough.
Will Kevin ever be free again?
SERGEANT SID GETS SQUAWKED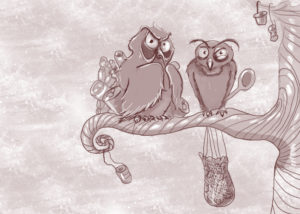 Then there's Sergeant Sid. He's so bored he makes up his own mad laws and these change every day.
Gerry is supposed to be walking Daffo, Paddy Plant's mad donkey, but it all goes wrong when Daffo breaks free.
They break one of Sergeant Sid's many laws, and they both end up in jail.
Everybody knows that when a donkey's got to go – a donkey's got to go, but when Sergeant Sid gets splattered, it's Gerry that gets the blame.
Can Gerry dig himself out of this one?
---
FUNNY STORIES FOR KIDS FROM IRELAND
There's lots more fun when you buy Maggie Many Cats and Other Stories.