Funny, heart-warming stories for kids. Exploring the ups and downs of family life.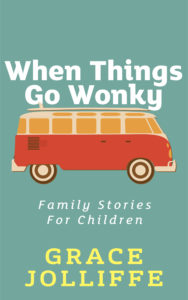 This collection of eight stories explores difficult family events and conflict, with empathy and warmth.
NO FAMILY IS PERFECT
Themes include:
• Coping with a new baby in the family
• When parents divorce
• Bullying
• Conflict in the family
• Loss and sadness
• Peer-pressure
• Sadness
---
STORIES FOR KIDS – WHEN THINGS GO WONKY
---
A COLLECTION OF EIGHT FUN STORIES – GREAT FOR BEDTIME
1. The Runaway Granny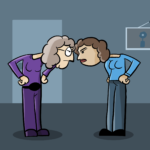 Natasha hates it when her mother and grandmother fight because no kid wants to be stuck in the middle.
But Granny hates every single thing about the little flat Natasha's mum got for her, and she's always late for dinner because she's playing darts.
One day they have the worst fight ever, and things get worse when granny packs up and runs away.
Will granny ever come home or is she having too much fun?

---
2. Happy Face
Samantha's dad has left them. She's feeling sad, and so is her mum. Samantha wants things to be like they used to be because then her mum had a happy face.
She's so desperate that she decides to use an Ouija board to contact him but will magic bring Samantha's dad home?
---
3. The Tree Hugger
A new girl comes to school. Shalmalah is different, and soon she's being bullied. Debbie thinks Shalmalah should change herself and do more to fit in but Shalmalah doesn't want to change, and the bullies don't want to stop.
The mean girls get meaner, and Debbie hates to see them being cruel to Shalmalah, but she's too scared to help. Soon she forced to make a choice. Can Debbie find courage?
---
4. Lamb Chops and Peas
Jenny's family love nature and the outdoors, and when they all go camping, they discover a little lost lamb.
Jenny wants to keep the lamb. She thinks she could bring it home and make it a pet. But her dad tells her the lamb must have a mother somewhere. Can the family reunite the lost sheep?
---
5. The Squidge
There's a new baby on the way, and Luke is worried everything will change.
His friend warns him that his parents won't care about him once the baby is born.
Luke doesn't believe him, but it turns out to be true because soon he feels like the 'invisible boy.'
He takes drastic action to see if his parents care.

---
6. Skateboard Sally
Sally's parents are super fit. They ran a marathon, and finished holding hands, but Sally thinks that's gross. Sally's fed up being fit. She wants to be like Cherry.
Cherry is her mum's sister and she just wants to have fun. One day Sally refuses to go for a walk, and her mum grounds her.
Sally runs off to get Cherry to help but soon she discovers that Cherry has a secret.
---
7. Freckle-Face
Nicola desperately wants expensive makeup to hide her freckles because none of the girls in magazines have freckles.
All she wants is to look cool, but her mother won't give her money for makeup.
Then she finds a wallet. Now she could have lots of money but will she do the right thing?

---
8. Cat Man Jack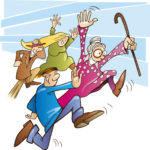 An eccentric stranger moves to John's street, and people get suspicious. His house is a mess, and someone smells a rat.
John's parents and their neighbours form a committee. They want to chase the stranger out of town.
But what is really going on in the stranger's house?
---
STORIES FOR KIDS – WHEN THINGS GO WONKY