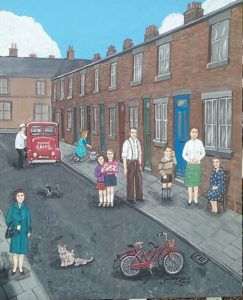 I have always had an interest in Liverpool nostalgia.
I am very drawn towards old photographs of Liverpool, especially pictures with ordinary working people in them – the people I grew up with.
We do tend to look back with rose-tinted glasses. Whether that's good or bad I don't know.
I tend to be a realist but I also like sticking on the old rose-tinted glasses now and again.
In truth, I have a mixed bag of memories from my childhood in Liverpool.
Some of them are wonderful – memories of playing out on the street with my friends, visits to the park, playgrounds etc.
Like all memories, not all are so wonderful and some of those have influenced my fiction writing.
But I don't want to focus on those memories all the time.
I visit the bad ones when necessary, or when they pop up unexpectedly but I see no point in dwelling on them.
There were some good times – there was fun and laughs – lots of laughs – it was Liverpool, home to some of the sharpest wits on earth and I love to see those times in pictures.
Therein lies the problem for me.
I grew up in a time before digital photography and before camera phones turned our lives into a never-ending carousel of photographs.
In those days photography was expensive and as a result, I don't have many photographs of my old house or street – just one or two.
This is why I follow a lot of the Liverpool History Groups on Facebook – to see other people's photographs and read about their memories.
I enjoy the nostalgia but I also see the poverty in those photographs. I remember it and I don't glorify it – I write gritty urban fiction after all…
But like I say, it's good to be reminded of the good times as well.
Another thing I like about the history groups is that you also meet great people and one of the people I met up with is Sandra Ford.
LIVERPOOL NOSTALGIA IN PAINT
Sandra is an artist from Liverpool, but like me, she moved away and is currently living in Florida.,
She paints wonderful nostalgic street scenes from photographs of Liverpool and I have been admiring her work on Facebook for quite some time.
Sandra has an absolutely gorgeous website and you can see more of her photographs here.
When I read that she does commissions and paint pictures from old photographs I dropped some massive hints to my husband that I would love a picture of my old street for my birthday.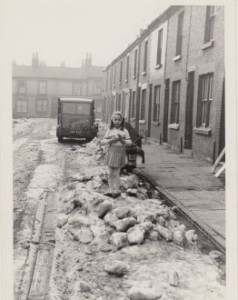 Luckily for me, I have a great husband who also loves history and is partial to a bit of nostalgia, so he agreed to get it for me.
I wanted my family and some friends in the painting.
Unfortunately, I had no photograph that includes them all.
So I sent Sandra three photographs and she imagined a scene that included them all.
I couldn't wait for the painting to arrive in the post and was so excited to unwrap it.
When I first looked at the painting I loved it immediately but, what I didn't realize was how emotional it would be for me.
All of those people from my past, apart from myself and my little friend, are now dead but in the painting, they look so alive.
I admit to having a little weep at first sight, but it was a nice weep if you know what I mean.
It was the kind of weep you have when you're struck by an explosion of feelings and memories, pleased and sad all at the same time.
Memories still pop into my mind when I look at the picture but it's okay, I love having my family back around me.
I have the painting hanging in my living room beside the fire and I can see it every time I sit down to relax.
The image you see above doesn't do it justice really.
In real life, the painting is so vivid and fresh you feel as though the people could speak.
THE SUNSHINE GIRL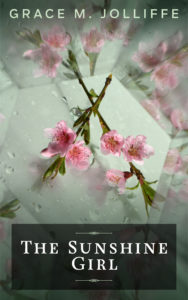 The picture is one of the ones that inspired me when I was writing my latest book: The Sunshine Girl.
The Sunshine Girl 
is a funny story struggling with a job she hates, a boss who's bonkers, a boyfriend who might have a secret life and a whole host of problems you'll recognise if you grew up in the 1970s.
I have more stories about Liverpool coming out soon and looking at this picture inspires me. When I write the stories I want to to do it for them.
I invent my stories and characters from my imagination but deep down I know that without the people in the picture I wouldn't be a writer.
Actually, I wouldn't be who I am at all.
Bye for now
Grace
---
You can download The Sunshine Girl from:
Or on
---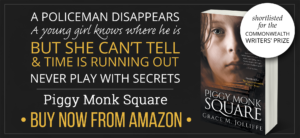 Get Your Piggy Monk Square on: