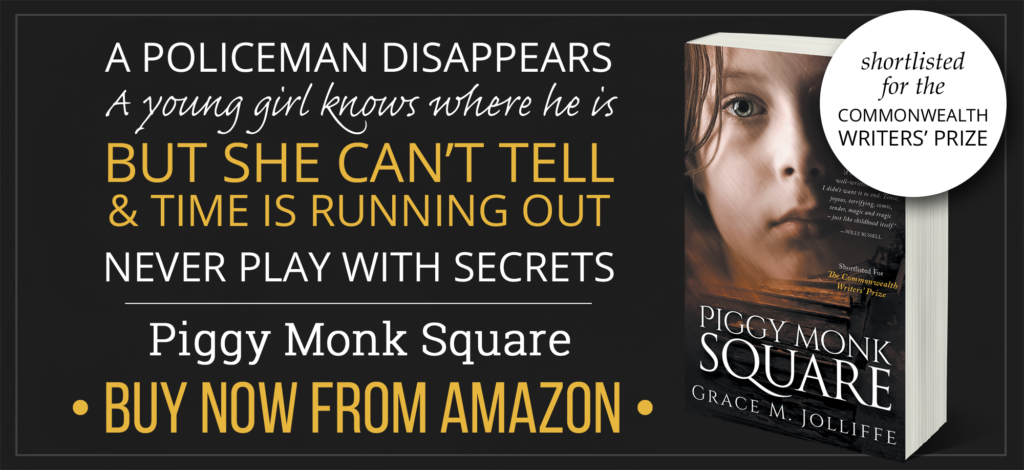 The Waverton Good Book Award was started by Wendy Smedley and Gwen Goodhew in Waverton, a small village outside Chester in England.
Their aim was to find fifty or so debut novels, written by British citizens. They wanted to encourage reading in their village as well as encourage new writers.
REAL READERS
They recruited people from the village to read and review the books and have built a team of over 100 readers to review each book they read. Later, they draw up lists from which the winner is announced.
My own book, Piggy Monk Square was nominated back in 2006!
It didn't win, but that doesn't matter – it's still great to know that my novel was considered and nominated, and that there are readers out there who really liked the book.
What I really love about the Waverton Good Book Award is that the villagers of Waverton created it on their own. I love it when someone takes an idea, runs with it and makes it happen.
It's also really great to know that there's a whole village of people who love books enough to create their own reading initiative and book competition.
UPS AND DOWNS
I continued to write after Piggy Monk Square was published and like most writers my career has taken many twists and turns and ups and downs of course, but thankfully more ups than downs.
UPS
I wrote another book set in Liverpool shortly after Piggy Monk Square was published and at the time there was a publisher interested in publishing it as well as republishing Piggy Monk Square – to a mass market.
As you can imagine I was excited – no more worrying about how to pay the electricity bill.
DOWNS
But… and here's one of the downs I mentioned above – the person who was interested in publishing the book left the company and the deal just fizzled out.
It was disappointing of course, but I continued to write. I had to earn a living and was kept busy writing for radio and television as well as teaching creative writing.
BACK TO LIVERPOOL

It's taken me a while but over the last few years I returned to writing fiction set in Liverpool.
I am glad I did. I had forgotten how much I love writing about Liverpool – where I was born and grew up.
As with Piggy Monk Square I am setting the books in the 1970s which was a fun and difficult period in Liverpool's amazing history.
My stories contain both the fun and the difficult – with strong Liverpool characters.
I will soon be releasing the first of four Liverpool stories. For now I am keeping them under wraps while they are being edited.
---
If you want to be the first to hear of my new release take a second to subscribe to my blog and I promise I'll keep you posted. Don't worry I don't send too many emails and this is a spam-free zone.
---
CLICK HERE TO SEE ALL MY BOOKS ON AMAZON
Save
Save
Save