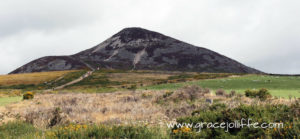 In a previous post I wrote about how down I felt to find myself wearing the dreaded 'Beckham Boot' yet again.
I think at the time of writing I was despairing but at least I managed to end that post on a positive note – by setting goals.
Well it took me longer than I thought but I achieved my three little goals and the last one down was Sugarloaf. I had hoped to get up there by Christmas but didn't manage it.
However last Sunday I finally made it and wow it was worth it.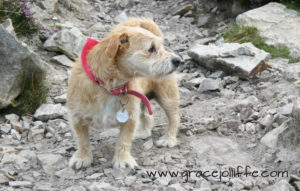 I went with my husband and of course Eppie, our little terrier.
It was a beautiful sunny day and it was warm.
The weather on the East coast is so much sunnier than here in the rainy west and it's amazing what a difference the sun makes to a day.
Sugarloaf has changed now. When I lived in Wicklow it was approached by a narrow winding road, more of a lane really. Back then it was dotted with potholes and driving it was a bit of an experience to say the least.
Now that lane is still narrow and winding but the potholes have gone. The council have improved the surface and it much easier.
The carpark at the entrance to Sugarloaf has changed as well. They have a narrow bridge scuplture/structure over the entrance. It serves the double purpose of looking arty while preventing camper vans from gaining entry.
However the change that really shocked me was the mobile shop selling coffee, tea, water and snacks.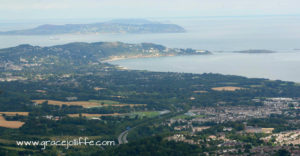 Part of me hated to see that shop – the commercialization of a beauty spot – what next? An Interpretative centre that you have to pay to walk through – like the ugly grey thing they use to squeeze cash out of tourists at the cliffs of Moher and other scenic places.
It was just a little shop and fine in itself. I just hope it's not the beginning of something big, ugly and grey.
Sugarloaf itself is still the same – they can't do much to change that – I hope.
It volcano shape was purple with heather and dotted with rocks – stark and dramatic against the sky.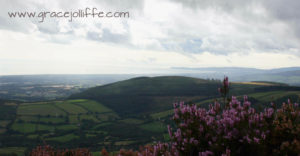 It is all so familiar to me, yet somehow it seemed more vivid on Sunday – maybe it was because I hadn't seen it from this close for a long time.
The walk up is fairly short but steep in the heat and we took a few very short breaks to let the breath recover. It made me realize how much I need to improve my fitness.
I have been improving my walking distance gradually and am up to about 12k but it's a slow 12k and I think I need to speed up my uphill walking.
Anyway, never mind all that. The walk up Sugarloaf was amazing. Each few steps up changes the views dramatically. Every time you turn to look behind you another little piece of Wicklow slides into place until finally you reach the top and all is revealed.
From the top you can see as far as Howth from one side and down to Wicklow from the other and all while standing among heather and wild fraughans or bilberries.
This is one of my favourite places to picnic and we had a flask of tea and some gorgeous lemon drizzle cake, bought specially to celebrate the occasion from my local Kinvara market here in Galway.
I had told myself I would have none of that cake unless I reached the top. I rarely eat cake but this is my favourite. It was a great motivator and as I enjoyed every lemony crumb of that slice of cake I felt like earned it.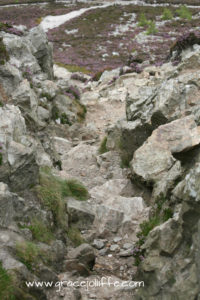 I had forgotten something though. Going up is one thing but, of course you still have to get down.
Going down is the hardest part and looking down on that rocky surface brought my anxieties to the surface.
Looking downwards I could see how much of the surface is covered in loose rocks and stones, each of them threatening to move or slide once I stepped on them.
Memories of Beckham boots, wheelchairs and crutches crept into my thoughts and for a few moments I felt sick. I would need to avoid those loose stones.
I talked myself out of it by remembering that you can only get anywhere one step at a time so I kept focused on this and made loads of tiny decisions about where to put each foot to best to avoid those moving stones.
My husband's arm remained in grabbing distance and this helped steady the nerves. I also used the strong heather growing on the side of part of the trail down as a guide rail.
All this helped and it wasn't too long before I was past those stones and back onto the safety of the solid brown earth and grass.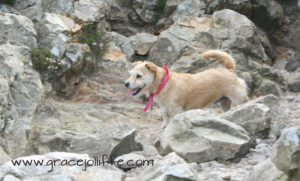 Eppie had no such fear and had spent most of the walk going ahead and then pausing, waiting for us to catch up.
She has no hesitation about climbing or walking anywhere. She loves it and it's funny to see her tiny body scrambling left and right – determined to get to the top.
She gained a lot of admirers on that walk as well. With many walkers stopping to pet and admire her.
She's cute and she knows it so she did what Eppie does best and lapped it up.
The only time she stopped was when a rock was too high, or sheer for her tiny legs to scramble up and on those occasions she would turn and look at us, patiently waiting for a pair of hands to lift her up before scrambling away.
So now my three goals have been achieved. I managed the Green Road first and then the Abbey hill a few weeks later.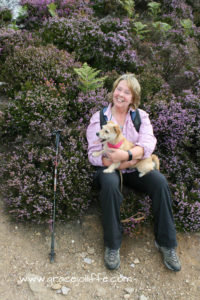 Those three walks represent a return to normality.
When I lived in Wicklow I used to walk up Sugarloaf nearly every week.
Normality when you're trying to recover from leg injuries is about walking and being able to do those walks is a great boost.
I don't know what the future will hold for me.
I can't be too confident about further leg or foot complications but what I can't do is let fear of that influence the present.
So I'll walk as much as I can while I can.
Sometimes, like Eppie, I'll need a little help but Eppie doesn't care and neither should I.
I must try to be more like Eppie.
---
Grace Jolliffe's Latest Novel The Sunshine Girl is now available.

Is the smiling stranger the answer to her problems?
Or is he the start of a nightmare.
A gritty and funny story set in 1970s Liverpool.
---
---